Amec Mine Construction
A world-leading international diversified construction company providing project management and services was contracted by a similarly large international mining company to construct a mine in Northern Ontario. They required a system to track the mine assets and operating equipment first by rail and then by truck during a 4-7 week window while an ice road is solid.

Client Profile


Sectors:
AMEC's services sectors including mining, defence, manufacturing, nuclear, oil and gas, power and utilities, buildings, renewables and transportation.

Services:
AMEC designs, delivers and supports their customer's investments in capital assets. The add value at every stage of a project from design and engineering to installation, commissioning and long-term support.

Established:
The company was formed in 1982.

Market Capitalization:
The aggregate value of the client is close to $ 1.5 Billion GBP.

Situation:
There is a short time frame by which everything required to build and operate a mine must be delivered to the mine site. The only way to transport materials and equipment over-ground to the mine is via an ice road that is only open for a few weeks between January and March. Anything that doesn't make it on the ground will have to be flown into the mine site.
The process of moving construction equipment starts when ocean-going containers are filled and loaded onto rail cars in Toronto, Ontario. These containers go to northern Ontario where they are unloaded and staged in a yard ready to be loaded onto trucks when the winter road opens.
When the road is opened, the containers in the staging yard are loaded onto these trucks and subsequently transported up to the mine site, fifteen hours away. Once at the mine, the containers are unloaded from the trucks and stored in the yard.
During construction, AMEC must be able to locate any container at any given time. It is important to know where it is while in transit and more importantly, exactly where it is in the yard once it has arrived. AMEC needed some method or technology to manage the collection and tracking of assets from receipt, through staging and ultimately to delivery and deployment.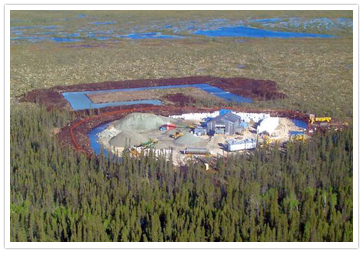 Solution:
AMEC engaged Sundex to deploy their asset tracking solution utilizing Radio Frequency Identification (RFID). The RFID technology enables the tracking and managing of materials and locations. Simply, RFID tags are attached to each container in a consistent, visible and accessible spot. They are adhered to the containers by industrial-strength adhesive which resists extreme temperatures. Each container is scanned via a hand-held scanner and associated to a tracking number to be stored in a database.

As the containers move they are scanned at each location with hand scanners. For example, when containers are leaving Toronto all the containers leaving would be scanned via the hand scanner or Personal Data Assistant (PDA) and the location would be set to "Toronto In Transit". This changes the database entry after synchronization to show that the containers are between the rail yard in Toronto and the staging yard in northern Ontario.

Once they arrive in northern Ontario the containers are re-scanned when they are received. Their status is set to "Staging Yard" and the exact location grid where they will be stored in the yard is entered into the database via the PDA.

Once entered in the database any container can be located instantly from the system's main search screen. The user can search using many different criteria and the results and their corresponding locations will appear.

Business intelligence exists in the form of location reporting of all of the company's assets. User control is also maintained by logging the history of an asset; "who registered it?, who moved it?, and where was it moved to?" This is produced in the form of an audit trail.

The Business Benefit:
The Benefits include:
Items can be located instantly and accurately
Little or no effort is required to scan the items
There is no manual data entry required
There are no papers, written notes nor any physical tracking records to lose
It can helps reduced theft when high theft areas are identified
There is a huge reduction in man hours spent "searching" for items
The client could receive a reduction in insurance rates due to reduction in losses
There is a faster inventory flow
Worldwide tracking is instantly available
The true business benefit of this solution is the increased efficiency by which organizations with a large flow of materials can accurately and effectively monitor asset locations and progress in shipping. This will save the company money and improve both the productivity and the efficient use of resource's time. The above project is one of many business applications where Sundex's products can be applied to increase efficiency and effectiveness through automation and achieve real dollar value for clients.